Ultra-compact 10 Gbps V-band radio for V2X /V2N market, data offload and and self-driving vehicles
Operates in V-band (57 to 71 GHz)
ELVA-1 MobiBridge 10G is all-weather radio link for true 10 Gigabit V2X connectivity, self-driving cars communications on the road, train carriages interconnection, vessels to in-port broadband Internet access, public transport to the Internet at stops. MobiBridge radios support 7 sub-bands within 57-to-71 GHz V-band license-free frequency spectrum to comply with national regulation requirements worldwide.
Each radio has a built-in electronically scanned antenna to search for other side radios and establishes the connection automatically.
For railways operators, ELVA-1 MobiBridge 10G provides the ability to dynamically create an end-to-end 10-gigabit network across the train. This is convenient for often carriage re-composition, changing the number of carriages on the train, depending on the route demand or seasonal load.
The solution easily adapts for similar applications like communication of the vessel with radio at the pier, wideband connection of public transport at stops.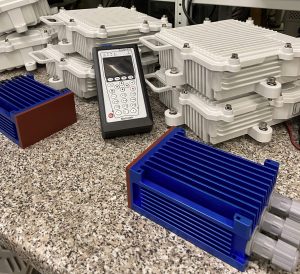 Features
Throughput up to 10 Gbps
Full duplex mode
License-free spectrum V-band
7 sub-bands @2000 MHz
Built-in antenna with an electronic scan
Up to 15 m distance range for true 10 Gbps QAM-128
Up to 200 m distance range for 5.6 Gbps QAM-32
Max distance range up to 500 m BPSK
Custom design for self-driving cars, buses, rail transport, and vessels
Automatic setup and configuration
Ultra-compact IP-65 case
Easy to instal
Applications
10 GE train inter-carriage connectivity

Dynamically creates an end-to-end 10 gigabit network across the train

Universal short-range 10 Gbps millimeter wave link

Easily adapts for various transportation applications including a vessel to the pier access point, the wideband connection of public transport at stops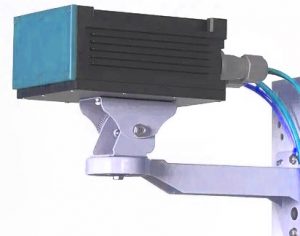 The world's fastest 10 Gbps per channel, ELVA-1 MobiBridge is designed for 5G complimentary wireless communication between vehicles.
For data upload & download on a rail station/depot or a bus terminal, it allows up to 10 m distance between the ground and train radios at stable 10GE connectivity. The total operation distance is 400 m.
MobiBridge 10G V-band 10 Gbps radio