Author: Harris Cains, Business Development Manager at RF Com (UK), ELVA-1 Partner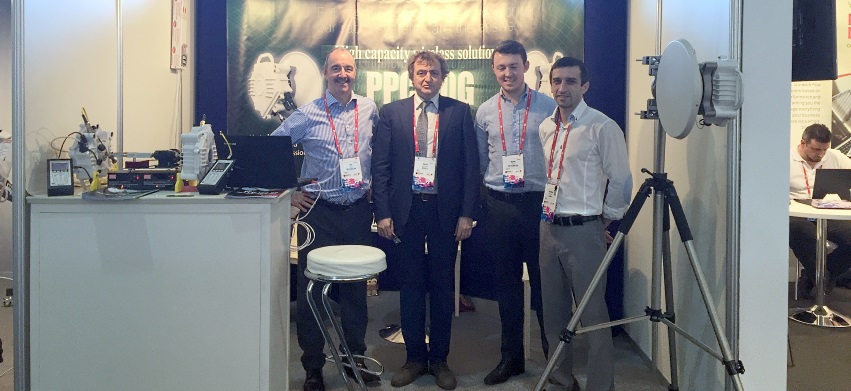 Harris Cains (second right) with Ian Cains (far left), Daniel Korneev (second left) and Rost Pezner (far right)
---
I would like to share my views on a great few days at the Mobile World Congress 2017, and my insight of discussions with MWC17 visitors interested in wireless 10 Gigabit Ethernet. No doubt, the hottest things that dominated at MWC17 were 5G, Internet of Things (IoT) and drones/robots.
5G, IoT and Robots
As you know, all great futuristic gadgets announced for 5G or IoT, need one very important thing beyond them – a connection to ultra broadband (UBB) network infrastructure. For example, a future mass-market 5G mobile device will be able to reach download speeds of up to 10 Gbps, and the population of such devices might be as much as a million connected devices per square kilometer. Just imagine, how advanced has to be the network infrastructure to satisfy the traffic demand from these user mobile devices.
For year lasted form previous Mobile World Congresses, we see active deployment of 4G+ mobile coverage in many contrives. 4G+ (also known as LTE-A, LTE-Advanced or 4.5G) brings about 3x higher connection speed compare to 4G, thanks to carrier band aggregation from multiple 4G spectrum bands. In the real world, 4G+ usually means 30 to 50 Mbps mobile download speed instead of 10 to 15 Mbps that is most common for 4G. Of course, these numbers are far enough from future 5G 10 Gbps per device. But even 4G+ deployment shows that any shift in increase of connectivity speed takes time and money, requires new infrastructure on server side and new mobile phones on hands of users which are supported 4G+.
Fiber is not everywhere
On the way from 4G+ to 5G, I predict the growing demand for ultra broadband last mile wireless backhaul equipment. Yes, mobile operators and ISPs look for fiber backbone first, but fiber is not everywhere. Penetration of broadband last mile wireless will be rise among demand for new UBB routers and further development of fiber cabling. MWC17 visitors whom I had talks to, most often asked me on three questions,
— What is the real and not advertised throughput of ELVA's 10-Gigabit wireless link,
— Haw many people can be happy with the Internet delivered by one this link,
— What will be the next gen speed limit for of ELVA links for 5G.
First, it is very easy to prove the real throughput of ELVA's 10-Gigabit wireless link. ELVA was among very few MWC17 exhibitors who run live demo traffic on the booth and displayed real numbers on network analyzers on both sides of the link.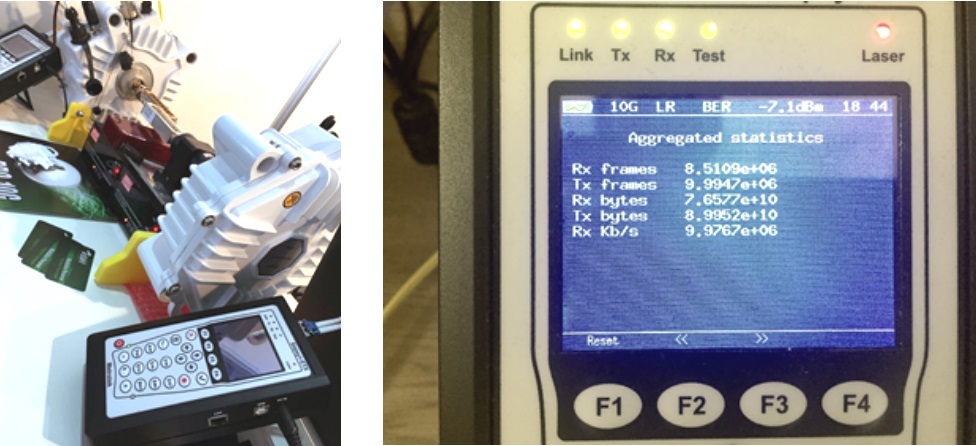 As you may see from network analyzer screen photo, the real traffic is very closer to 10.0 Gbps, and this is not just "on table" numbers. At real link distance, the traffic will be also closer to 10.0  Gbps.
4G/5G as Great Market Prospective for Last Mile 10+ Gbps Wireless