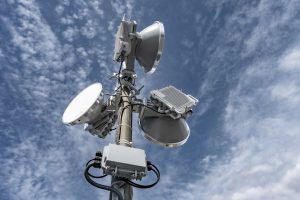 E-band 10GE Mesh Network Node
Operates in E-band (70-80 GHz)
The hexagonal mesh network is a high capacity alternative to traditional fiber rings for cities with populations greater than 50,000. Each node has three wireless links and can connect through an optical cable to city's fiber ring if available in order optimize traffic flow between different city districts.
10Gbps 70-80GHz E-band radio links are ideal for the deployment of wireless mesh network at the city scale.
There are 8 main advantages of 70-80GHz E-band communications compared to technologies based on 802.xx standards:
Distance range of radio links between the nodes of a mesh network is 3-5 km on average;
Full-duplex mode 10 Gigabit Ethernet;
Carrier-grade equipment to deploy 4G/5G base stations;
Low latency over a large number of hops;
Low BER (Bit Error Rate), with a difference of up to 6 orders of magnitude compared to Wi-Fi and Wi-Gig;
Availability rate up to 99.999%;
Up to 100% of wireless traffic load per radio link;
Light licensing of 71-76/81-86 GHz spectrum in the most countries.
Features
Mesh network node is usually located on a roof or mast, consists of several 10 Gigabit radio links connected to a single EDGE router. Тypical 10Gbit/s mesh network communication node includes 10 Gbps radios (optionally 20-40 Gbps radios) for connectivity to three neighboring nodes and EDGE router.
Public connectivity servers (routers) are located in nodes connected by a fibre connection to a central node or ISP data center. SDN network management servers are located in several nodes (in fact, the management server is one, but is duplicated in several nodes)
Business advantages
The cost of wireless solutions is dropping, while the cost of fibre work is rising

For use in urban networks, Safe City, Smart City applications

10 to 40 Gbps wireless solutions have reached optical line speeds and exceeded them in reliability

ELVA-1 millimeter wave links are well-known on the market for thier long-range operation

Elimination of license costs (open-source network management software)

ELVA-1 provides network management tools based on open-source software

FCC light licensing spectrum

Federal Communications Commission allows to use block of 10 GHz of light license spectrum between 71-76 to 81-86 GHz

The minimal configuration of each node ensures a lower cost of ownership

The Linux-based router has low power consumption.
The reliability (availability) level of the network is up to 99.999%, corresponding to the carrier class. Total network capacity is determined by the number of alternate 10-40 Gbps wireless routes from one network node to another, reaching 100 Gbit/s and more.
Decentralized wireless network is resistant to failure of any elements in the network and have multiple alternative routes for traffic. Automatic linking of nodes is available along the best route with dynamic realignment.
E-band Mesh Network White Paper
E-band Mesh Network Node