Bochum, North Rhine-Westphalia, Germany — Oct 31, 2017 — ELVA-1 Company announced successful installation of PPC-10G ultra-high throughput millimeter wave link for Ruhr-Universität Bochum by Omnitron Griese GmbH, ELVA's partner. The link works at E-band 71-76&81-86 GHz, which is light licensed frequency band in Germany.
This PPC-10G link is intended to connect two university campuses on distance of 3.94 km (2.45 miles) over rural area. Omnitron's and RUB's Computing Networks Department personnel worked together on this project to establish true 10 Gbps wireless connectivity.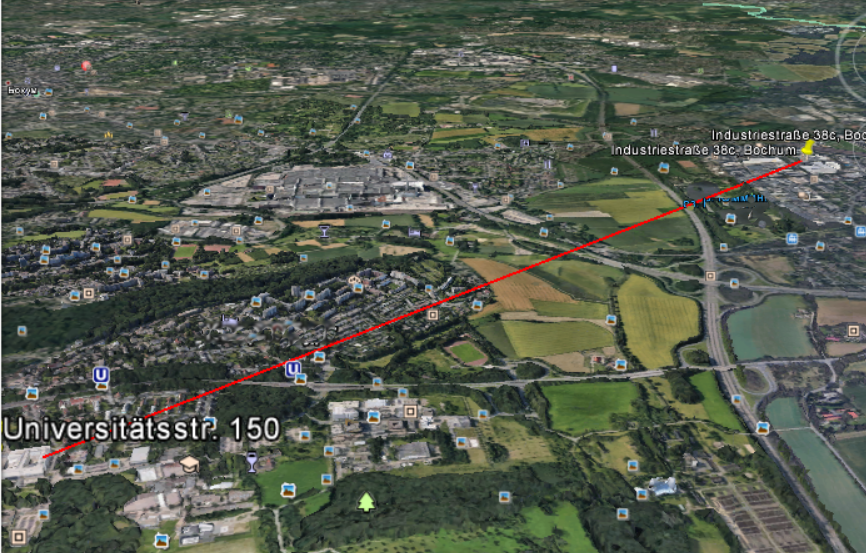 ELVA-1 is well-known supplier of mm-wave scientific equipment for German universities, while 10 Gbps E-band links is new promising equipment for this academic market. The radio is equipped with 60 cm antenna by default; however, other antenna sizes are also available. The PPC-10G is normally mounted in a rooftop or tower location, and contains slots for SFP/SFP+ modules to connect to a LAN/WAN network.
Andreas Klipp from RUB Computing Networks Department has commented the link installation — "We have chosen ELVA 10 Gbps to speed-up of setting new 10 Gigabit Ethernet connection between Ruhr-Universität Bochum buildings. The other reason was to safe money as for 10G fiber rent we would pay 4500€ per month and huge development costs of 60000 € to bring the fiber between the buildings. More over, we were interested to try this modern 76 GHz wireless technology in our university. PPC-10G is significantly less expensive".
PPC-10G is IP radio link, providing up to 10 Gbps full-duplex throughput. The link is intended for point-to-point applications such as 4G/LTE/5G Backhaul, Corporate Campus Networks, IPTV, and other Wireless ISP backbones. All ELVA-1 links are designed for interconnection between remote WAN/LAN segments that located on the sites with no fixed line broadband connection. Typically, this is for landscape or industrial barriers or ecology restrictions for ground cable laying like national park, river, lake, airport/railway area, private land, etc.
The PPC-10G link site in Ruhr-Universität Bochum (RUB) is available for guest visit and demo. Please arrange your guest visit to RUB and all PPC-10G talks with Omnitron. Your contact person is Marc Bezani.